Accounting Software from Open Systems, Inc.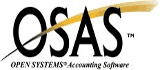 Complete Software Services sells OPEN SYSTEMS® Accounting Software (OSAS®) for UNIX®/Linux®, single-user Windows®, Windows peer-to-peer, Windows server-based and even Mac OS X customers. Since 1976 Open Systems has been providing accounting software for small to medium sized businesses. Over the years more than 200,000 companies have made the choice to use OSAS and have been glad they did. OSAS offers flexibility, portability and the ability to grow with your company. Complete Software Services has worked with companies using OSAS with everything from a single-user PC to organizations with 300 users in multiple locations across the county, and OSAS has been up to the task every time. Coming complete with open source code, OSAS has the ability to be modified to fit even the smallest need of your company. Complete Software Services has been providing this service since we started in 1987. OSAS is the premier choice for both character-based and GUI-based accounting software for your small to mid-sized business.

Complete Software Services sells TRAVERSE® accounting software for Microsoft Windows server-based customers. TRAVERSE is Open Systems' Windows-based accounting solution. Based on the Microsoft® Access/SQL platform TRAVERSE can be easily integrated into your business. Whether you have a small office or a large company with branches all over the world TRAVERSE can handle your accounting needs. As with OSAS, the source code is included so it can also be modified to fit your company's needs now and well into the future. With applications for distribution, manufacturing, construction, retail and even not-for-profit, TRAVERSE can provide the answer to your data processing needs.


SCO UNIX
Complete Software Services has sold and installed SCO® UNIX products since we started in 1987 and continues to provide business servers using SCO OpenServer operating systems. SCO is the industry leader in UNIX with an installed base of over 2 million systems. Complete Software Services sells, installs, configures and supports all versions of SCO OpenServer UNIX products.


Microsoft Products

Today it is impossible to ignore Microsoft® products and Complete Software Services has not. As an authorized reseller of Microsoft products Complete Software Services can provide you with Windows servers, workstations and Microsoft Office business tools.


BASIS International Products

Complete Software Services is an authorized reseller for BASIS International's BBx® and BBj® programming languages. Available for Windows and UNIX/Linux, BBx and BBj are modern versions of Business BASIC. Thousands of users use applications every day written in BBx or BBj. Applications include accounting software, retail, transportation, manufacturing, health, education and construction. Complete Software Services offers BASIS software as well as custom programming to fit your needs.


Nobilis Servers, Workstations and Notebook Computers by Equus
Complete Software Services sells Nobilis workstations and notebook computers. Nobilis computers are built-to-order, this provides the customer with a computer designed to fit the needs of their business. Rather than "forcing" a PC purchased at a "big box" store to perform in a business environment, Nobilis PC's are designed to handle the duties required of a business workstation. Whether performing word processing, spreadsheets or accounting duties, a Nobilis business workstation will handle it with ease.


Lexmark & Oki Data Printers

Complete Software Services offers Lexmark color and monochrome laser printers. Lexmark offers high-speed laser printers in both color and monochrome units that can print as fast as 50 pages per minute. Lexmark printers offer flexible accessories as well, including multiple bins, collators, even staplers. Lexmark printers are great for all sizes of business from small offices to large workgroup configurations.

Complete Software Services offers Oki Data dot-matrix and LED (laser) printers. OKI® dot-matrix printers are sturdy, hard-working machines that hold up to the daily rigors of the modern business. Oki dot-matrix printers are available from small, narrow-carriage models up to high-speed printers capable of printing over 1000cps. Oki LED printers are also available from small, personal models up to large workgroup units in both monochrome and color.


Wyse Terminals & Thin-Client Workstations

Wyse® has been providing Complete Software Services' customers with terminals since we started. Wyse 50 & Wyse 60 terminals were the backbone of most multi-user computer systems. Since the advent of the network, Wyse has also provided WinTerm thin-client workstations. Connected to a Windows-based server running Citrix or Microsoft Terminal Services, a WinTerm provides a low-cost alternative to equipping each user with a full-sized, full-priced PC.


Minuteman Uninterruptible Power Supplies
Minuteman UPS's provide peace of mind concerning your power issues. Minuteman power supplies protect your servers and workstations from power surges, spikes, brownouts and power failures 24/7. Minuteman UPS's come complete with Sentry software. Sentry software communicates with the Minuteman UPS and will perform an orderly shutdown of computer equipment in the event of a power failure, even if no one is there.


LONE-TAR and RESCUE-RANGER by Lone Star Software

Every system needs a reliable backup software package. Whether you're backing up to tape or some other removable media LONE-TAR® is an extremely reliable solution. Couple this with AIR-BAG® or RESCUE-RANGER® software which will reload your data to a new hard drive in the event of a failure and you have a winning pair. Lone Star Software Corporation was founded in 1979, providing backup and disaster recovery software solutions for UNIX and Linux. Complete Software Services uses LONE-TAR along with RESCUE-RANGER or AIR-BAG on all UNIX systems we provide.


ViewSonic Monitors

Complete Software Services works exclusively with ViewSonic® monitors. ViewSonic LCD and CRT monitors have continually ranked high in quality and clarity. The image clarity on ViewSonic monitors is always impressive and their durability in an office environment is incredible. In fact, Complete Software Services started selling ViewSonic monitors in 1996 and some of those original monitors are still in service (the others have been replaced with new ViewSonic LCD flat-panel screens). ViewSonic LCD flat-panel displays are some of the brightest and easiest to see in the industry. They also have some of the widest field-of-vision available.


TinyTERM by Century Software

Ever since the invention of the PC, businesses have been using PC's along with their legacy multi-user systems. To prevent the need for a PC and a terminal on every desk, terminal emulation software was created. TinyTERM is the terminal emulation package Complete Software Services sells. With 25 years of experience, Century Software's TinyTERM affords a reliable package for terminal emulation for your Windows/UNIX environment.



Complete Software Services not only sells these products, but provides installation, training, configuration and ongoing support. You are never left "on your own" to contend with the configuration and integration needs of these products. More information on the services that Complete Software Services provides is available on the Services page.